Are you constipated? How to tell if you are constipated?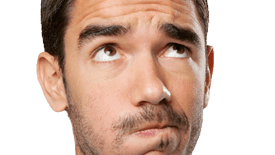 Constipation is a common problem. 
At least 2.5 million people see their doctor each year due to constipation.
Having fewer than three bowel movements a week is, the definition of constipation. However, how often you "go" varies widely from person to person. Some people have bowel movements several times a day while others have them only one to two times a week. Everyone is different and going to restroom twice a day or two times a week may just be normal for you. But if your constipation is severe or accompanied by pain, bloating or bleeding call your doctor immediately.
Constipation can have causes that aren't due to underlying disease. Examples include dehydration, lack of dietary fiber, physical inactivity, or medication side effects. But if your constipation is persistent then see your doctor
Simple remedies:
Treatment of constipation starts with the realization that you do not need to have a bowel movement every day! Constipation is defined as less than 3 bowel movements a week.
Use high fiber diet. In addition you may use Metamucil, konsyl, psyllium, citrucel with large amounts of water.
Increase fluid intake, drink plenty of water.
Avoid fast foods, fries, and cheese.
Take a large breakfast with a 16 oz glass of water and go to the restroom. Try to establish a routine of going to the restroom every morning.
Never ignore nature's call. Whenever you have an urge to go, do not try to suppress it.
A visit to the rest room should be short and sweet! Do not read a magazine on the toilet seat, concentrate on what you are doing. Do not prolong unsuccessful attempts to defecate. It is a good idea not to spend more than 10 minutes on the throne!
It is not a good idea to strain or bear down for a bowel movement. In fact this can lead to all sorts of complications in your pelvic area. Please try to avoid any urges to push down for a bowel movement. If you do have to push, squeeze your ABS to push, not the pelvic floor muscles.
Exercise every day, walking and jogging will help you establish a routine.
Pelvic floor exercises: Kegel type exercises can sometimes help relax your pelvic floor muscles and facilitate a bowel movement. First tighten up your pelvic floor muscles and then relax. Spend a long time and concentrate on the relaxation part. Do this exercise 20 times.
Maintain a diary, pencil down every time you have a bowel movement and bring it to the doctor for your next visit.
www.colonsurgeonhouston.com
Khawaja Azimuddin M.D. & Tal Raphaeli M.D. & Jean Knapps M.D.
1125 Cypress Station Dr, Suite G, Houston TX 77090
Tel: 281-583 1300  Fax: 281-583 1303