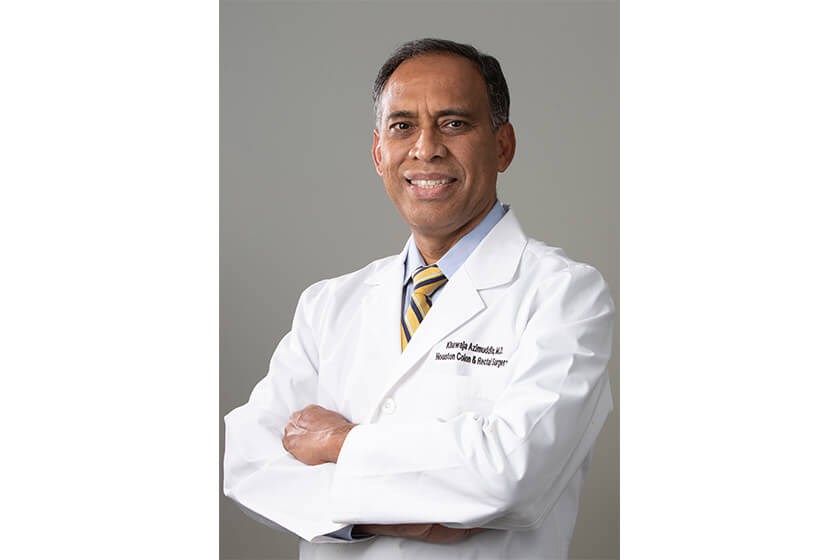 Dr. Khawaja Azimuddin is one of the few board-certified colon and rectal surgeons currently practicing in North Houston, TX. Affectionately called "Dr. Azi" by his many patients, he is board certified in both general surgery and colon and rectal surgery. With two decades of experience and training under his belt, Dr. Azi is proud to serve the Greater Houston area at Houston Colon and Rectal Surgery and their many locations alongside his equally skilled peers.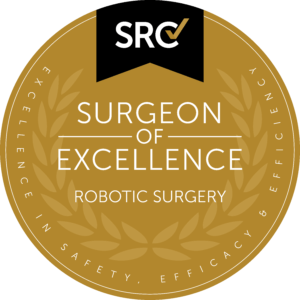 EDUCATION and PUBLICATIONS
Dr. Azimuddin earned his medical degree from Dow Medical College in Karachi, Pakistan. After this, he received general surgery training at the New York Medical College and went on to complete his fellowship training in colon and rectal surgery at Penn State University and Lehigh Valley Hospital in Allentown, PA. Throughout his longstanding career, Dr. Azi has lectured and published extensively. He is an editorial reviewer for the Diseases of the Colon & Rectum (the official journal of the American Society of Colon and Rectal Surgeons) and the International Journal of Surgery. He has authored 21 research articles in scientific journals and has delivered numerous lectures in regional, national, and international colorectal conferences.
Specialties and Expertise
At Houston Colon and Rectal Surgery, Dr. Azimuddin specializes in providing treatments for a range of colorectal conditions and diseases, including colon and rectal cancer, hemorrhoids, colitis, anal fissures, fistulas, diverticulitis, fecal incontinence, and many others. Over the years, he has learned and perfected a number of advanced techniques, including robotic surgery and minimally invasive colon surgery.
Along with being double board-certified in general and colon and rectal surgery, Dr. Azi is a member of numerous surgical societies, including the American College of Surgeons and the American Society of Colon and Rectal Surgeons.
As an award-winning surgeon and an active member of his Houston, TX community, Dr. Azi believes in the well-known proverb "service above self." He is a member of Rotary International and has even been named a Paul Harris Fellow. Of the many notable recognition he has received, he is most proud of the Distinguished Service Award, which is one of the highest honors bequeathed by Rotary International.
Dr. Azimuddin is also a published author and his autobiography "The Boy Refugee: A Memoir from a Long-Forgotten War" has received widespread acclaim around the world. It is available at Amazon, Barnes & Noble, and all other major bookstores. To check out his story please visit https://theboyrefugee.com/
Dr. Azimuddin is also an accomplished ceramic tile artist and many of his large scale ceramic murals are installed in public places. He believes there is a deep connection between creating intricate ceramic art and the art of surgery. Being a Colon-Rectal Surgeon he naturally loves to dissect, carve and create with his hands. After a day's work with the scalpel & forceps, he relaxes with the brush and glaze to create calligraphy on ceramic tiles in the evenings. In doing so, he finds peace and tranquility and this is his spiritual escape. This is his hobby and his passion! Dr. Azimuddi invites you to take a look at his art: https://theboyrefugee.com/my-art/
Reviews
"I visited Dr. Azmuddin for a routine colonoscopy, and he did an excellent job. He is very competent, intelligent, and friendly. For the first time, I experienced almost no recovery time from the procedure. After a short stay in the hospital, I walked out with my husband to enjoy a large breakfast. I am also pleased that Dr Azmuddin gave me a choice of 2 good hospitals: Houston Methodist-Willowbrook and St. Lukes. I chose Houston Methodist, and was very happy with all of their services."
H.
Healthgrades
"Dr.Khawaja Azimuddin is above and beyond any Dr I have seen. I would highly refer him to anyone needing a Procto Physician. Amazing attitude and takes his time and explains everything. So happy to find this Doctor. Highly the best in my opinion!!!!!!!! He Rocks"
A.E.
Google
"Dr. Azimuddin was fantastic. The whole process was smooth and all my questions were answered. he was very attentive through the whole process. I definitely recommend him."
K.M.
Google
"Dr. Azimuddin performed a major surgery and I'm just so impressed as to how well I came out of it. He is so personable and easy to talk to, not to mention a highly skilled surgeon. "
L.T.
Healthgrades
"Very impressed with Dr. Azimuddin's knowledge and experience. And he is very nice while being thorough at the same time. What he does is like magic. Great bedside manner and great support staff, too."
A.T.
Google
Related Posts