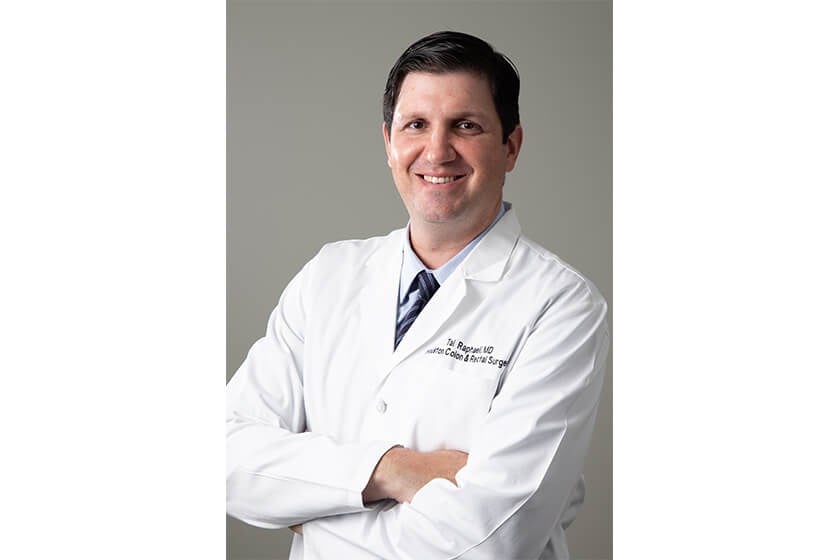 Board-certified in both general and colon and rectal surgery, Dr. Tal Raphaeli treats patients of varying ages and conditions at our locations across North Houston, TX. He strives every day to preserve and improve the health and well-being of the men and women in his care and accomplishes this by providing patient-focused care and exceptional services. Along with our other colorectal surgeons on staff, Dr. Raphaeli is one of the few specialists in the Greater Houston area to hold board certification in colon and rectal surgery. With over a decade of experience in the field, he is pleased to serve his community at Houston Colon and Rectal Surgery.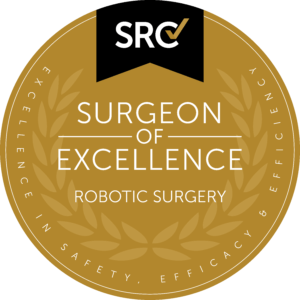 After graduating from the University of Texas in Austin, Dr. Raphaeli went on to attend medical school at the University of Texas Medical Branch in Galveston, TX. He then completed his general surgery training at Virginia Mason Medical center and received fellowship training in colon and rectal surgery at the Swedish Colon and Rectal Clinic at the Swedish Medical Center in Seattle, WA. Dr. Raphaeli is double board-certified in general surgery and colorectal surgery.
SPECIALTIES and EXPERTISE
Dr. Raphaeli is a colon and rectal surgery specialist and regularly utilizes advanced techniques, such as minimally invasive laparoscopic surgery for the treatment of cancer and benign diseases. This method helps to decrease pain and shorten the patient's stay in the hospital. He also specializes in endoscopy, the treatment of common anorectal disorders, such as hemorrhoids, fissures, pelvic floor disorders, and more. Throughout his career, Dr. Raphaeli has presented at numerous regional and national conferences and has had his works published.
Dr. Raphaeli is a member of the Harris County Medical Society and the Texas Medical Association, the largest county and state medical associations in the nation, committed to improving health for all Texans.

A native of our grand city, Dr. Raphaeli grew up in West Houston, TX and attended St. John's School prior to beginning his undergraduate education at the University of Texas in Austin. Dr. Raphaeli enjoys getting to know each one of his patients and treasures the relationships he has built with them over the years.
Reviews
"Dr. Tal Raphaeli was the best for my procedure. I literally haven't felt like this since I was a teenager. I truly thank Dr. Raphaeli for getting me back to normal. I would definitely refer him to anyone."
M.S.
Google
"I visited Dr. Azmuddin for a routine colonoscopy, and he did an excellent job. He is very competent, intelligent, and friendly. For the first time, I experienced almost no recovery time from the procedure. After a short stay in the hospital, I walked out with my husband to enjoy a large breakfast. I am also pleased that Dr Azmuddin gave me a choice of 2 good hospitals: Houston Methodist-Willowbrook and St. Lukes. I chose Houston Methodist, and was very happy with all of their services."
H.
Healthgrades
"Dr. Tad Raphaeli is an outstanding surgeon that takes great care of his patients and I thank God to let me get in touch with him to take care of my Colovesical issue and now I'm very lucky to say that I'm enjoying my good health again. I definitely recommend him and his staff as they are very professional and extremely helpful."
J.G.
Google
"Dr. Azi is the most caring doctor I have ever had! He has helped me through a blood clot, two colonoscopies, he's also helped me through a surgery while I was in the hospital. He truly goes above and beyond. Not only is he an awesome doctor, he is a friend."
J.G.
Healthgrades
"Took his time to relate to me in great detail all aspects of my recent surgery and post surgery. He is articulate, friendly, and has a good sense of humor. He is an excellent surgeon and I am grateful to have been his patient. I highly recommend Dr. Raphaeli."
H.B.
Healthgrades
Related Posts