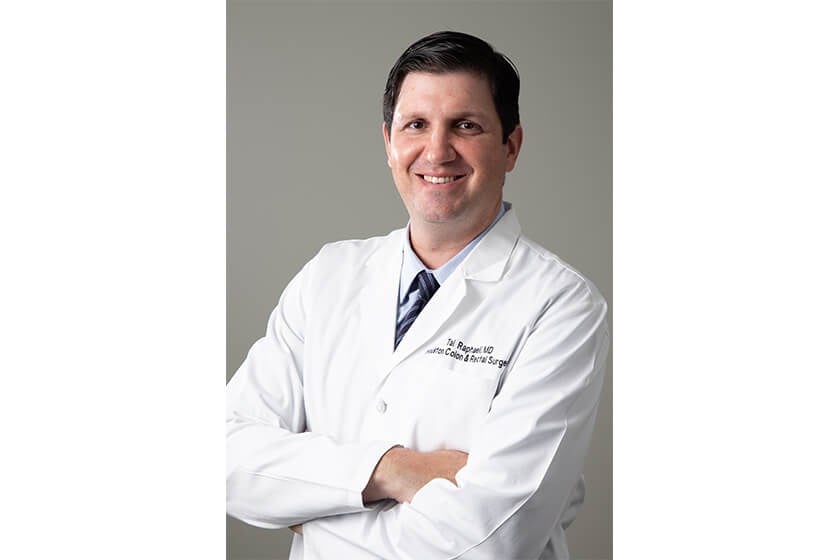 Board-certified in both general and colon and rectal surgery, Dr. Tal Raphaeli treats patients of varying ages and conditions at our locations across North Houston, TX. He strives every day to preserve and improve the health and well-being of the men and women in his care and accomplishes this by providing patient-focused care and exceptional services. Along with our other colorectal surgeons on staff, Dr. Raphaeli is one of the few specialists in the Greater Houston area to hold board certification in colon and rectal surgery. With over a decade of experience in the field, he is pleased to serve his community at Houston Colon and Rectal Surgery.
After graduating from the University of Texas in Austin, Dr. Raphaeli went on to attend medical school at the University of Texas Medical Branch in Galveston, TX. He then completed his general surgery training at Virginia Mason Medical center and received fellowship training in colon and rectal surgery at the Swedish Colon and Rectal Clinic at the Swedish Medical Center in Seattle, WA. Dr. Raphaeli is double board-certified in general surgery and colorectal surgery.
SPECIALTIES and EXPERTISE
Dr. Raphaeli is a colon and rectal surgery specialist and regularly utilizes advanced techniques, such as minimally invasive laparoscopic surgery for the treatment of cancer and benign diseases. This method helps to decrease pain and shorten the patient's stay in the hospital. He also specializes in endoscopy, the treatment of common anorectal disorders, such as hemorrhoids, fissures, pelvic floor disorders, and more. Throughout his career, Dr. Raphaeli has presented at numerous regional and national conferences and has had his works published.
Dr. Raphaeli is a member of the Harris County Medical Society and the Texas Medical Association, the largest county and state medical associations in the nation, committed to improving health for all Texans.

A native of our grand city, Dr. Raphaeli grew up in West Houston, TX and attended St. John's School prior to beginning his undergraduate education at the University of Texas in Austin. Dr. Raphaeli enjoys getting to know each one of his patients and treasures the relationships he has built with them over the years.
Reviews
"In an emergent situation, we were blessed to have Dr. Jean Knapps to be the surgeon on call. Afterward, and during the additional two surgical procedures, he was compassionate and explained everything done and to be done in detail. His skill and concern gave us peace. Also Dr. Azimuddin was great in post op visits in the hospital."
B.R.
Yelp
"Dr. Azimuddin was my surgeon for a required total colectomy. Naturally, having to have a complicated surgery was incredibly scary and the recovery process was difficult. Dr. Azimuddin was wonderful, though, throughout -- leading up to the surgery, the surgery itself and the recovery process. He is very direct and frank, which I appreciate greatly. Most importantly, my surgical results were about the best you can have with this type surgery. I had no complications from the actual surgery and my recovery process -- albeit difficult -- was easier than what most patients experience with a total colectomy. I would highly recommend Dr. Azimuddin to others who need to have colon surgery."
T.D.
Yelp
"Dr. Azimuddin has been my doctor through a total colectomy, ostomy reversal, a couple diagnostic procedures, some hospital stays, and many in-office visits. He is always friendly, makes me feel comfortable, and is always concerned about my progress. He gives direct answers and takes the time to make sure I (and my parents) understand things. I always feel comfortable asking him any questions I have. Any nurse or hospital staff I've talked to always has great things to say about him. This has been a long journey through some pretty serious medical issues and Dr. Azi has been a great doctor to have on my side."
R.G.
Yelp
""All I had is Medicare" My husband said "And they treated me like a prince." We were having a crisis. My husband was passing large blood clots and bleeding a lot from his rectum. We had been told there was "something" in his colon on the CAT scan and were scared to death. They went above and beyond to do everything they could. He's an old crippled guy, on Medicare. They treated him like a VIP. We had a great experience with the office staff - who took the time to explain everything, and Dr Raphaeli. Dr. R looked at our records and scheduled my husband for a prompt colonoscopy. Since we are non-driving due to disability he took pains to make sure it would happen locally so we wouldn't have transportation difficulties. The procedure was fast, the results good (no cancer!). We have a proper diagnosis and a treatment plan. Houston Colon and Rectal, and Dr R, went above and beyond to serve both of us, and for that they have my undying gratitude."
H.B.
Google
"Dr, Raphaeli - is a caring and kind doctor. He explained everything to me and there was nothing to fear. I was relaxed and came through the procedure well. Best of all no pain any more! Carole Z."
Anonymous
Healthgrades
Related Posts